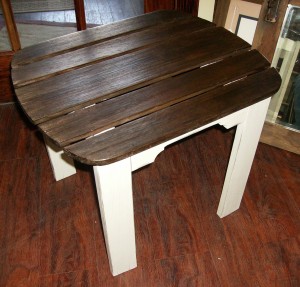 Note:  Where the edges of brown look like they have smudged white paint on them – they don't.  Again, it's because of my very sad photography skills.
OK … so, don't kill me … but it looks like I forgot to take a "before" picture of this table.  I could have sworn that I took a picture of it months ago when I first brought it into the store … so maybe the secret cyber picture thief took it.  Either way, if I come across it I will post again with a before/after shot.
Moving on, this is table that I picked up at a yard sale last year and I immediately envisioned it fixed up and sitting in my yard, or on a porch or deck.  The table is wood, but  the wood was dried out and looked really sad and tired.  I knew, if possible, I wanted the top of the table to have a natural wood look with the sides and legs painted white and distressed for that shabby chic/cottage style look.
First, I rubbed (using an old t-shirt) the top and underside of the table with hemp oil.  It took about 2  coats to revive it because the table was really dehydrated, so it slurped it right up.  It made the top look happy and perky!
Then I painted (two thin coats) the legs and sides using CeCe Caldwell's Vintage White.  Once the second coat dried I did some light distressing.  As I usually do, I started with all of the edges.  Once the edges were done, I decided that I liked the look as it was, so I left the distressing at that.
For a finish I used two different products.  I used CeCe Caldwell's Satin Finish on the top and underside – simply because I wanted those areas to cure a little faster since, more than likely, the top of the table will be heavily used.  Then, I used CeCe Caldwell's Clear Wax on the all of the area that was painted white.  What ended up happening (which I really, really liked) is that the top had a little bit more of sheen to it, while the white parts of the table had a very muted sheen.
So, this my indoor/outdoor end table.  Come on in to the store and check it out!