So, while everybody on the planet (ok, so I'm exaggerating a little) is getting snow, here in Philly we are getting rain – again.  It's bad enough that I can't control the weather, but in the past few days I can't control my hair, either … rain = frizz.
So, while I'm here at the store – which has been pleasantly picking up through word of mouth – I've decided to paint.  So, I'll share what I'm up to.
I forgot to take a "before" picture of this shelf that I just finished, but here are the "after" pictures.  I used CeCe Caldwell's Chalk and Clay paint – the color is Smokey Mountain Gray.  I simply slapped it on (literally) and let it dry – which took no time at all.  I then distressed it using a damp cloth and let that dry.  I lightly coated it with a water-downed layer of CeCe Caldwell's Satin Finish and let that dry.  Finally, I applied CeCe Caldwell's Clear Wax (which I LOVE so much) and buffed it with a dry rag.
This whole process took me about 2 hours – INCLUDING drying time between all the steps!  Sooo easy!! Here it is (and please remember that I am seriously shitty photographer, but I'm working on that):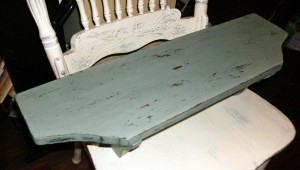 Since, it's so dreary here, I'm getting ready to work on a small stool that I got from who knows where …. knowing me, I probably "trash-picked" it.  Either way, it's gonna go from Ugly to Lovely in 2 hours.  I'll be sure to share the "After" … 🙂