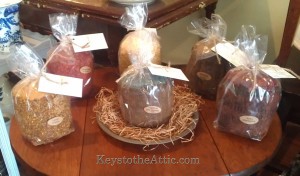 We've got a fresh batch of Americana Vintage candles with some delicious new scents!  (Remember:  We WILL ship)
Fragrances that we have added to our inventory are:
Lemon Custard

Ginger & Fig
Pomegranate & Apple
Cabin in the Woods (for all you guys who have been wanting a "woodsy" scent)
Spicy Cranberry
Fragrances that we are still carrying are:
Lemon Parsley

Mulled Tangerine
Homestead
Come on in and check them out!  As any of our loyal candle customers can tell you, they leave the store very quickly after they arrive.