A couple of weeks ago, I went to a CeCe Caldwell's Paints workshop, in Fall's Church VA, where we got to meet CeCe, play with paint and learn about the new finishes that are now part of her fantastic line. Lots of fun!
Shout Out – to Theresa, from Stifel and Capra, for being such a gracious host. Check out her facebook and website to see the phenomenal items she has … believe me, she is quite the artisan.
So, I am now happy to tell you that I have the new finishes at Keys to the Attic for everyone to enjoy.  (See below the image for a description of each one.)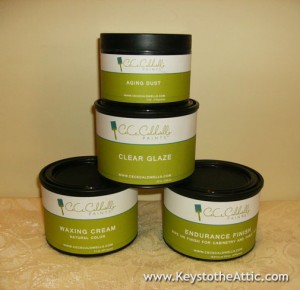 Aging Dust
The Aging Dust is a fine micro-powder, made from natural pumice and natural pigments, that is used over clear wax to produce a truly authentic aged look.  (Instructions for use)
Waxing Cream
The Waxing Cream is an alternative to Clear Wax that produces a little more of a shine, while using less product to attain it.  This wax penetrates deeper into the wood, ultimately requiring less buffing than other waxes.  (Instructions for use)
Endurance Finish
The Endurance Finish is a stronger satin finish that we now recommend for cabinetry, table tops and other surfaces that endure heavy use.  It is non-yellowing and, as with all of our products, safe to use indoors.  (Instructions for use)
Clear Glaze
The Clear Glaze is generally used as an enhancing technique, rather than a final finish.  It can be tinted with dry pigments, universal tints, or CeCe Caldwell's Paints to achieve a desired color.  Or, it can be used clear to give a light sheen to decor that will not be handled regularly (i.e., picture frames).  (Instructions for use)
All of these items can be found at www.KeystotheAttic.com.  Check them out and let us know what you think!